10th Annual Conference of the Gesellschaft für Fantastikforschung
Das Romantisch-Fantastische – The Romantic Fantastic
18.-21. September 2019 at Freie Universität Berlin (Kolleg-Forschungsgruppe "Cinepoetics – Poetologien audiovisueller Bilder" und Seminar für Filmwissenschaft)
The complex relationship between the romantic and the specific appearances, genres and media of the fantastic are the focus of this conference. On the one hand we want to assess the role of romantic ideas, poetics and imagery in possible genealogies of the fantastic mode and on the other hand we want to utilize the reference to its romantic origins in order to explore the fantastic's inherent potential of critique.
The programm is online and will be kept up-to-date during the conference: https://www.conftool.org/gff2019/sessions.php 
For the opening on the 18th we are showing The NeverEnding Story (1984) at the Kino Arsenal in a 35mm copy of the English OV from the BFI (free admission for all participants).
Download the program overview here: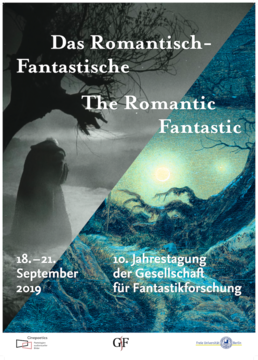 Conference Board: Jan-Hendrik Bakels, Regina Brückner, Matthias Grotkopp, Tobias Haupts, Daniel Illger, Cilli Pogodda, Michael Wedel
GFF
The Gesellschaft für Fantastikforschung e.V. (GFF) [Association for Research in the Fantastic] is the first academic association in the German-speaking world committed to furthering research on the fantastic in art, literature and culture.